IVF regulation: ensuring safe and ethical treatment
Forty years ago, Louise Brown was the first baby to be born from IVF treatment. The public's reaction was divided. Some were proud that the UK had developed a new way of helping people have the families they longed for, but others were uneasy about the apparently uncontrolled advance of science, which brought with it new possibilities for manipulating the early stages of human development.
It was that unease that led to an inquiry, chaired by Mary Warnock, that considered the social, ethical and legal implications of IVF and what safeguards should be put in place.
In 1984, the Warnock report identified the need for principles and limits to govern fertility treatment and human embryo research and recommended an independent body be created to make sure clinics operated within these boundaries. And after an interim period where this responsibility was delegated to the Interim (Voluntary) Licensing Authority, legislation was passed and the Human Fertilisation and Embryology Authority (HFEA) was born.
We were set up to make sure patients could access safe treatment. And that's still the case. We license, monitor and inspect UK fertility clinics to ensure they're providing high quality care.
IVF has become more common, but not commonplace – it's still an overwhelming rollercoaster of a journey with so many different things to consider.That's why we pride ourselves on being the go-to source of clear, unbiased and reliable information on fertility treatments and clinics. Our website is an invaluable source of information and our Choose a Fertility Clinic service allows patients to compare like with like; no marketing, no sales chatter.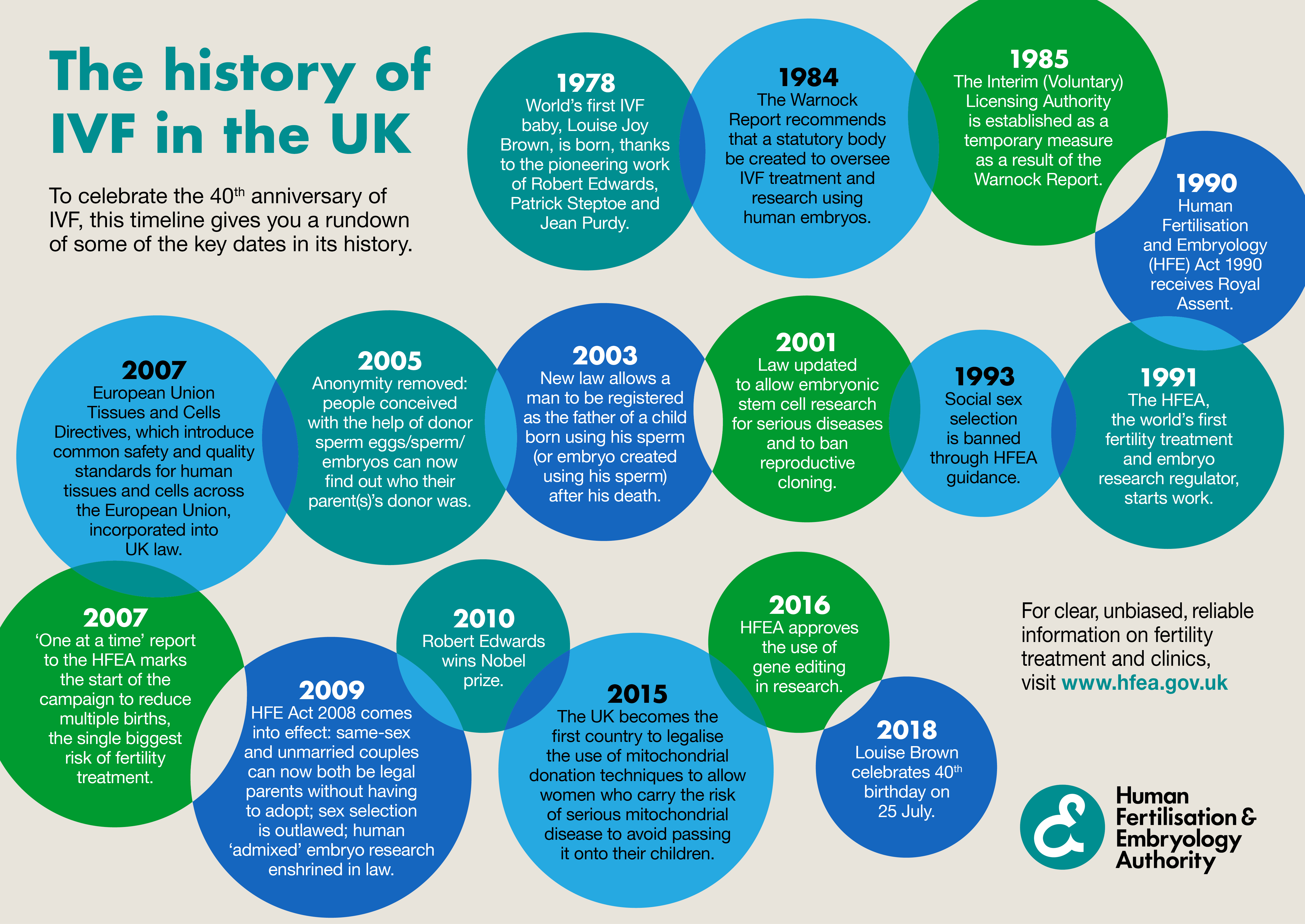 There have been huge advancements in scientific research and medicine over the past 40 years. We've seen embryo testing developed to allow people to avoid passing on serious inherited diseases to any children they might have, the development of, and advancements in, egg freezing, and laws passed and updated to reflect the changing face of fertility medicine.
And the UK continues to take the lead. We were the first country in the world to license ground-breaking mitochondrial donation techniques which allow women who carry the risk of serious mitochondrial disease to avoid passing it onto their children. We also continue to lead the way in gene editing research.
IVF now happens globally; but the way it is regulated varies from country to country. It's fair to say that the world looks to the UK model as the blueprint, with the right mix of allowing innovation but maintaining public trust.
Success rates have doubled over the last 25-30 years to around 30% but we still have a long way to go. The reality is that most people who have fertility treatment are unsuccessful, which is just one reason why emotional support before, during and after treatment is so important.
For a fortunate minority, IVF has been the 'miracle' science that's brought them the baby they've longed for. For the majority, it's been a road filled with anguish, frustration and heartache. We want to see that pattern changed and we will work with clinics and researchers in pursuit of that goal, ensuring patients receive the safest, highest quality care along the way.
IVF is 40
We're celebrating 40 years of IVF. Keep up to date with the celebrations on our microsite.
Publication date: 20 December 2018
Review date: 20 December 2020