Our Chair Sally Cheshire receives her CBE
We are delighted to say that our Chair, Sally Cheshire, received her CBE from the Duke of Cambridge at the Buckingham Palace investiture ceremony on Tuesday the 12th December 2017.
Sally, who is also Health Education England's Northern Chair, was awarded a CBE in the Queen's Birthday Honours in June for her services to the NHS and infertility patients.
After attending the ceremony with her family, Sally recognised the hard work and commitment of healthcare workers across the country:
"I am very proud to receive this honour, especially as it is for services to the NHS and infertility patients. Having held a leading role in health organisations over the last 15 years, I have seen first-hand the hard work and dedication of the many thousands of people who make our healthcare system one of the best in the world.
"It has been, and remains, my pleasure to work with them to improve the quality of care for everyone who uses our services."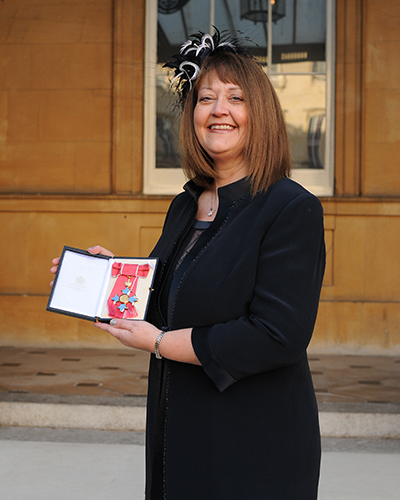 Publication date: 2 January 2018
Review date: 2 January 2020