The Sperm Donor's Dilemma
by Turi King, Professor of Public Engagement and Genetics
I consider myself very lucky: I'm the geneticist on the BBC's DNA Family Secrets series presented by Stacey Dooley. In this programme we use DNA to help people find answers to family mysteries and also answer questions about familial genetic disease. In one of our episodes, I was introduced to Tink, a lovely, young woman who, as a teenager, found out that she was a sperm donor child. She realised she wanted to know if she was alone or whether she had any donor-conceived (DC) half-siblings and anything about the ancestry of her sperm donor dad – she wasn't especially bothered about finding out who her sperm donor father was. By the time of transmission of the programme, Tink learned through the HFEA that she had 16 donor half siblings and we were able to tell her something about her sperm donor's ancestry. All the way through filming we ensured she had access to, if she wanted, a counsellor and a social worker and we were mindful throughout that this could very well be difficult process for her to go through emotionally.
In the course of my work, I've also met men who form the other side of the coin, so to speak, who have been sperm donors in the past, some of whom want to find donor children, and some who don't. For those who donated sperm after 2005, this is really straight forward, as essentially it was not an anonymous donation: any donor conceived children can, should they so choose, find out who their donor was once they reach the age of 18 in 2023.
But for those who donated prior to this, there are the official channels to remove their anonymity. For those who donated at a UK-licenced clinic anonymously post 1991, they can choose to remove their anonymity through the HFEA which was founded in that year to keep a database of all uses of donated eggs, sperm and embryos since then. And for those who donated pre-1991, the Donor Conceived Register was set up is to match pre-1991 donors and donor conceived and/or donor conceived siblings sharing the same donor.
The ability to remain anonymous as a donor will certainly become increasingly difficult. A spit tube and a computer is all that's needed these days to potentially, unexpectedly, find one another.
However, there is another way a sperm donor's anonymity may also be removed: through the very route we used to help answer some of the questions that Tink came to us with regarding her donor's ancestry: direct-to-consumer (DTC) testing and the huge databases these companies hold. And sometimes it can take a matter of minutes to pinpoint who the sperm donor is likely to be through he, or his relatives, being on the database: as occurred in a recent case I've been working on.
The power of DNA to answer questions about ancestry and uncover family secrets through DTC testing such as that through companies such as 23andMe and AncestryDNA, has acted as both a blessing and, for some, a curse. It is hard for many of us in this day and age perhaps to realise just how taboo the subject was decades ago, especially prior to 1991 and the founding of the HFEA. Both the receiver and the donor could be said to be committing adultery and there were practices of mixing both the infertile husband's sperm with that of the donor, or donors, so that it wouldn't be known at the outset who the biological father was. Donors themselves would often not know if their donation would be used for research purposes or insemination and often they donated anonymously. On top of this, it was advised that sperm donor children not be appraised of the fact that they were sperm donor conceived, many still ignorant of their beginnings to this day.
At the time, none of those of involved could have conceived, if you'll forgive the pun, of the leaps in technology, the sheer scale of genetic testing and ability for these long-held secrets to be to be revealed so easily now. At a time when DNA testing kits from these companies are bought for people as gifts for Christmas and, ironically, birthday presents, perhaps the last thing that some people are expecting is to find out through this process is that they are, or have, a sperm donor child.
In my experience, the impact on the people involved is mixed. For some, it's a shock, but once they're over that initial surprise, they seem to process and deal with it in a very practical way. For others, it's earth-shattering. And unlike with Tink, there is no dedicated support around them as they go through this.
So too is the case for many sperm donors, who years later are faced with the dilemma of what to do on finding, or being found by, sperm donor children through either taking a DTC test themselves or a relative having done so. They may find a DNA match such that they've stumbled on someone conceived as a result of their donation, often many decades previous. Do they contact them? Do they wait to be contacted? What if the person in question doesn't know they're the result of sperm donation? And through all of this, how do they deal with the incredibly sensitive issues surrounding it? What if they do make contact and, heart-breakingly, the person has not had a good life? These are no easy answers to these questions. Still others are shaken by being contacted totally out of the blue by a person resulting from their 'anonymous' donation: some in shock and defensive not knowing what to do and what the DC person would want from them.
With the number of people having bought tests from these companies now approaching 30 million, donors are likely to face this dilemma in increasing numbers. Indeed, the ability to remain anonymous as a donor will certainly become increasingly difficult. A spit tube and a computer is all that's needed these days to potentially, unexpectedly, find one another.
It's for these reasons that I always strongly council donors to contact the HFEA and Donor Conceived Registers as a first port of call. Like me, the people who work for these organisations believe it's important that these people have support around the implications of this life-changing news. Not only can they talk donors through the process of removing their anonymity but they offer advice and support throughout. A donor may be at the start of an amazing journey: the HFEA or DCR means having someone to hold their hand through it.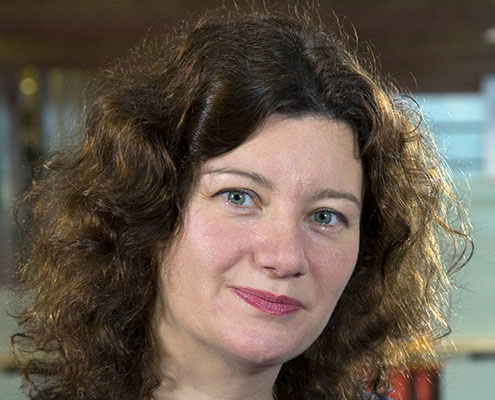 Turi King
Turi is a scientist, presenter, speaker and author who is passionate about communicating science to the public.
Turi uses genetics in the fields of forensics, history and archaeology. Alongside this she's worked in the field of genetic genealogy since 2000. She is perhaps best known her work "cracking one of the biggest forensic DNA cases in history" (Globe and Mail, February 2013) leading the genetic analysis for the identification of King Richard III.
Turi started her career in archaeology, first in Canada and later reading for a degree in Archaeology and Anthropology at the University of Cambridge. Graduating with a BA(Hons), she then went to study at the world-famous Genetics Department at the University of Leicester on a scholarship, to read for an MSc in Molecular Genetics.
Review date: 26 November 2023